Tissue Proteomics
AG Bohnenberger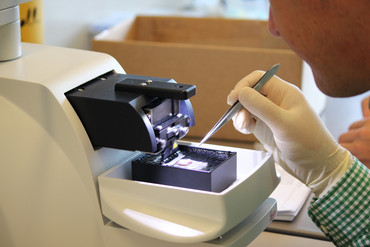 Der Schwerpunkt unserer Forschung liegt auf der Identifizierung und Implementierung von proteomischen Gewebe-Biomarkern in die pathologische Routinediagnostik zur Verbesserung der diagnostischen Zuverlässigkeit und Therapiesteuerung für Patienten mit bösartigen Tumorerkrankungen. Zu diesem Zweck kombinieren wir Histomorphologie, genetische Analyse und massenspektrometrische Proteomik von Patientenproben, um die molekulare Architektur von Krebs beim Menschen zu verstehen.
Darüber hinaus wollen wir onkogene Signalwege verstehen, die zur Karzinogenese, Tumorprogression, Metastasen und Therapieresistenz von menschlichem Lungenkrebs beitragen, um molekular zielgerichtete Therapieoptionen und prädiktive Biomarker für deren klinische Verwendung zu identifizieren. Wir verwenden dafür proteomische Massenspektrometrie, hochauflösende Mikroskopie sowie molekulare und zelluläre Biochemie, um funktionelle Untersuchungen verschiedener Krankheitsmodelle durchzuführen.
Unser langfristiges Ziel ist es, proteomische Biomarker in der klinisch-pathologischen Routinediagnostik zu etablieren, um die personalisierte Krebsbehandlung zu steuern und die Prognose und Lebensqualität unserer Patienten zu verbessern.
Team
Hanibal Bohnenberger (Team leader)
Omar Elakad (PhD Student)
Sha Yao (CSC-MD Student)
Yuchan Li (CSC-MD Student)
Constance Macke (Technician)
Sandra Rüngeling (Technician)
Julius Bodemeyer (Medical Fellow)
Niklas Ullrich (MD Student)
Lisa Kiessling (MD Student)

Alumni
Tabea Wagner-Gueya (former MD Student)
Nicolas Wortmann (former MD Student)
Jennifer Appelhans (Technician)
Pamela Nissen (Technician)
Natascha Gieser (former BSc Student)
Helen Dinter (former MD Student)
Thurid Hofmann (former MD Student)
Hannah Henric-Petri (former MD Student)
Jonatan Hoffmann (former MD Student)
Jana Brünies (former MD Student)
Philipp Stauder (former MD Student)
Anna-Maria Lois (former MD Student)
Mariella Fritz (former MD Student)
Melodie Bathaee (former MD Student)
Cem Karakütük (former MD Student)
Christian Rothe (former MD Student)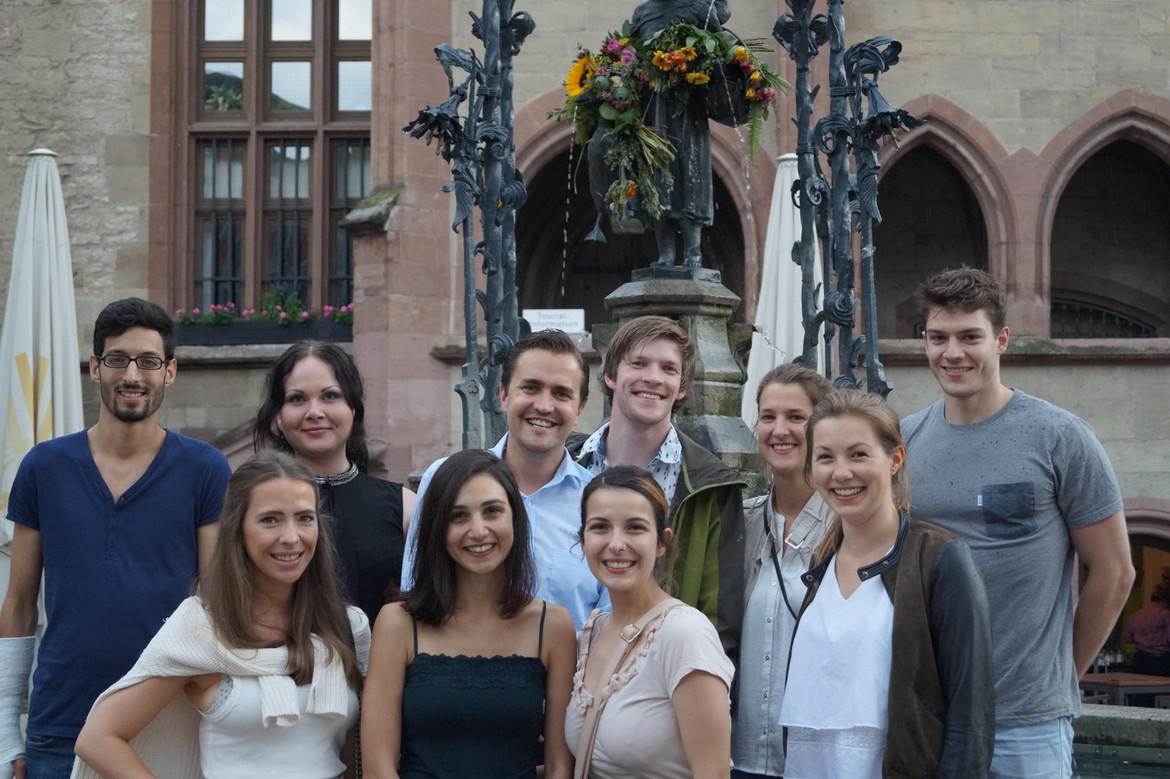 Ausgewählte Publikationen
Bohnenberger H*, Kaderali L*, Ströbel P, Yepes D, Plessmann U, Dharia NV, Yao S, Heydt C, Merkelbach-Bruse S, Emmert A, Hoffmann J, Bodemeyer J, Reuter-Jessen K, Lois AM, Dröge LH, Baumeister P, Walz C, Biggemann L, Walter R, Häupl B, Comoglio F, Pan KT, Scheich S, Lenz C, Küffer S, Bremmer F, Kitz J, Sitte M, Beißbarth T, Hinterthaner M, Sebastian M, Lotz J, Schildhaus HU, Wolff H, Danner BC, Brandts C, Büttner R, Canis M, Stegmaier K, Serve H, Urlaub H, Oellerich T (2018): Comparative proteomics reveals a diagnostic signature for pulmonary head-and-neck cancer metastasis. EMBO Mol Med. 10(9): e8428.
Dinter H*, Bohnenberger H*, Beck J, Bornemann-Kolatzki K, Schütz E, Küffer S, Klein L, Franks TJ, Roden A, Emmert A, Hinterthaner M, Marino M, Brcic L, Popper H, Weis CA, Pelosi G, Marx A, Ströbel P (2019): Molecular Classification of Neuroendocrine Tumors of the Thymus. J Thorac Oncol. 14(8):1472-1483.
Elakad O, Lois AM, Schmitz K, Yao S, Hugo S, Lukat L, Hinterthaner M, Danner BC, von Hammerstein-Equord A, Reuter-Jessen K, Schildhaus HU, Ströbel P, Bohnenberger H (2020): Fibroblast growth factor receptor 1 gene amplification and protein expression in human lung cancer. Cancer Med. 9(10):3574-3583.
Grafen M, Hofmann TR, Scheel AH, Beck J, Emmert A, Küffer S, Danner BC, Schütz E, Büttner R, Ostendorf A, Ströbel P, Bohnenberger H (2017): Optimized expression-based microdissection of formalin-fixed lung cancer tissue. Lab Invest. 97(7):863-872.
Bohnenberger H, Ströbel P, Mohr S, Corso J, Berg T, Urlaub H, Lenz C, Serve H, Oellerich T (2015): Quantitative mass spectrometric profiling of cancer-cell proteomes derived from liquid and solid tumors. J Vis Exp. (96):e52435.
Wir sind immer auf der Suche nach hochmotivierten Forscher*innen, die sich für die Krebsforschung begeistern. Wenn Sie Interesse daran haben, Ihre Bachelor- , Master- oder Doktorarbeit bei uns zu schreiben oder eine Laborrotation machen möchten, schicken Sie Ihren Lebenslauf und ein Motivationsschreiben an den Arbeitsgruppenleiter: hanibal.bohnenberger(at)med.uni-goettingen.de.
Ort:
Sie finden uns in der 2 Etage des UMG-Hauptgebäudes (Raum 2.E1.101.1).
Anschrift:
AG Bohnenberger: Tissue Proteomics
Institut für Pathologie
Universitätsmedizin Göttingen
Robert-Koch-Str. 40
37075 Göttingen

Kooperationen
Prof. Dr. Thomas Oellerich, Department of Medicine II, Hematology/Oncology, University Frankfurt
Prof. Dr. Henning Urlaub, Bioanalytical Mass Spectrometry Group, Max Planck Institute for Biophysical Chemistry Göttingen
Dr. Christof Lenz, Bioanalytics, University Medical Center Göttingen
Prof. Dr. Lars Kaderali, Institute of Bioinformatics, University Medicine Greifswald
Prof. Dr. Alexander Marx, Institute of Pathology, University Medical Centre Mannheim
Prof. Dr. Tobias Lange, Institute of Anatomy and Experimental Morphology, University Cancer Center Hamburg
PD Dr. Felix Bremmer, Institute of Pathology, University Medical Center Göttingen
PD Dr. Alexander von Hammerstein-Equord, Dr. Marc Hinterthaner, Prof. Dr. Theodor Tirilomis and Prof. Dr. Bernhard C. Danner, Department of Thoracic and Cardiovascular Surgery, University Medical Center Göttingen
Prof. Dr. Björn Chapuy, Prof. Dr. Gerald Wulf , Dr. Judith Büntzel and Dr. Hannes Treiber, Department of Hematology and Medical Oncology, University Medical Center Göttingen
PD Dr. Dr. Lena-Christin Conradi, Department of General, Visceral, and Pediatric Surgery, University Medical Center Göttingen
Dr. Ramona Schulz-Heddergott, Institute of Molecular Oncology, University Medical Center Göttingen
Dr. Sebastian Bremer, Clinic for Gastroenterology and Gastrointestinal Oncology, University Medical Center Göttingen
Prof. Dr. Fred Wouters and Dr. Getrude Bunt, Institute of Neuropathology, University Medical Center Göttingen
Dr. Boris Barbarics und Dr. Katja Eildermann, Department of Pediatric Cardiology and Pediatric Intensive Care Medicine, University Medical Center Göttingen
Prof. Dr. Holger Reichardt and Dr. Sybille D. Reichardt, Institute for Cellular and Molecular Immunology, University Medical Center Göttingen